What to expect from the 2 week Intensive Permaculture Design Course (PDC) at Carraig Dúlra July 2020

For two weeks, we'll live and learn together at Carraig Dúlra, a 3 acre 10 year old Permaculture research and demonstration site in county Wicklow. Camping on the land, cooking and eating with fresh produce grown in the circle garden on site and sourced from local producers, learning with permaculture practitioners from across the island and beyond, learning from each other, re-acquainting ourselves with nature, living within limits, and experiencing the abundance that all of this brings…..
**New this year** We've already begun! We are extending the edges of the PDC to provide additional opportunities for learning and community building several months in advance of the actual course dates. We have already had our first tentative online meet-up with those booked on to this years course, some past course participants and some of the tutors. In March we'll have the second of these online sessions focussing on 'Radical Permaculture and the PDC' Then in April we'll be onsite at Carraig Dúlra for a practical weekend of food growing and networking, preparing the gardens and planting some of the food that we'll be harvesting in July to feed us during the course.
In the past 6 years we have seen the potential of this comprehensive course to transform and empower, create community and lasting friendships, heal the land and develop nature based projects, and make positive changes in peoples' lives. "The best thing I've ever done" and "Everyone should do this" are frequent feedback comments we hear!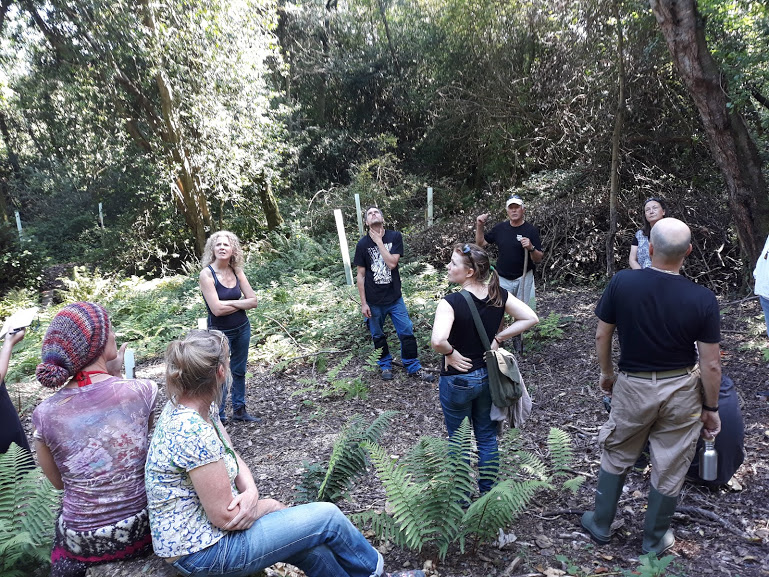 Now in our 7th year running, and in the context of climate and biodiversity emergency, (plus all the other crisis': housing, health, marginalisation of minority communities etc) we want all of those positive outcomes of the course to multiply themselves. We want to create a really regenerative learning experience that serves a wider community and really equip participants with the knowledge, the networks, the skills and the resources needed to make positive changes in your own lives and in your communities – human and non-human!
Within this we hold tight to our 'keystone' tutors who have worked with us over the years and who we treasure! With them we cover all of the main topics that you would expect to find in any PDC: Water management, Plants and Trees and Woodlands, Agro-ecology, Soil biology & soil care, Food, Natural building & living off grid, Resilient eco-communities, and much more.
Want to book? http://dulra.org/courses/pdc Lots more details here too
Curious? Other peoples' blogs about the course: https://lackancottage.co.uk/reflections-on-the-permaculture-design-course/ and http://thepodprojectni.co.uk/2019/10/02/permaculture-days-abundance/
Any questions? Email me: [email protected]
Next online meet up is scheduled for March 23rd, so if you book or enquire before then you will be invited to join us for that, we'd love to have you on board!
https://earthcare.ie/wp-content/uploads/2020/02/dulra-heading-scaled.jpg
580
2560
Hannah
https://earthcare.ie/wp-content/uploads/2017/11/Hannah-logo.png
Hannah
2020-02-28 12:14:11
2020-02-28 12:42:34
What to expect from the 2 week Intensive Permaculture Design Course (PDC) at Carraig Dúlra July 2020