Project type: Private farm design and consultancy.
Status: Implementation ongoing
Project Brief: Design, and Consult on the development of, an inter-generational land asset, a safe haven in a changing climate, a biological legacy for children.
Nature and biodiversity conservation and enhancement,
Provide perennial products: Fruit, Nuts, Wood for fire, timber, craft,
Maintain grazing livestock + opportunity for more,
Pay for it's own management.
Overview
A quite typical small farm in the North West, 25 acres of 'improved' grazing, machine managed hedgerows, deep drains, banks, and some remnants of Oak and ancient hedgerow -enough to show where this land can go! The access is already sufficient so no work needed there, Very shallow topsoil mostly over clay, a wetland lake-edge. And sheep.
Together with the clients, who were new to this farm, I spent a year observing and designing. Thanks to a great team, we are now going into year two with three ponds full, the orchard being planted this month, and the woodlands scheduled for before the season is out.
Design Themes:
The themes for this project centre around rebuilding the natural resource base onsite.
Water management, water supply + security
Soil rehabilitation + soil building
Biodiversity support
Perennial food systems
Shelter for animals
Main systems:
Water
3 new ponds for farm and household water security, biodiversity + amenity.
Swale to main water storage pond
Stream-scaping of existing drains to minimize erosion + hold more water onsite.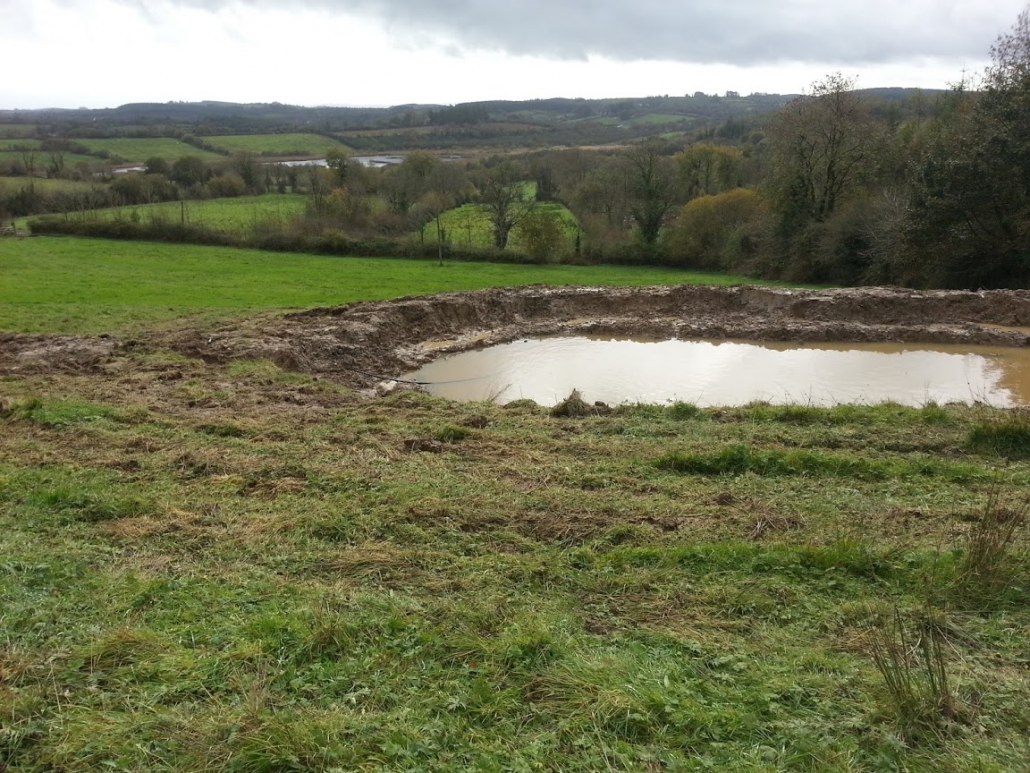 Trees
6 acres native woodland for soil stability, wood product, biodiversity, amenity + finance.
Perennial food crops
25 tree apple orchard
10 tree cob nuttery
Plant guilds/living mulches associated with both for pollinator support, pest management, living mulch, tree support + herbal medicine/food for humans.
Working at this scale offers the opportunity for a really meaningful contribution to the biodiversity emergency whilst also substantially supporting local food security and building resilience in the face of climate changes and disruptions.
Contact me to help!
Rehabilitate degraded farmland: improve soils, increase biodiversity, use the abundant and free water resource (rain!) to your benefit, provide a healthy environment for livestock,
Integrate perennial food crops, woodland, water and animals
Provide for more of your needs from the farm
Prepare your farm for climate disruptions
Or do it yourself!
Come on a course – check out upcoming courses.
And here are some resources that you might find helpful:
Books: Permaculture Designers Manual, The Earthcare Manual, The Resilient homestead, Permacuture design step by step
People: John Dolan-Permaculture Ponds, Paul Lynch -Drone contour mapping, Joe Gowran-Native woodlands
Plants: Heritage Fruit Tree Nursery, Leitrim, Fruit and Nut, Mayo, Seeds: Fruithill farm, Cork
https://earthcare.ie/wp-content/uploads/2019/03/whole-farm-design-plan.jpg
440
350
Hannah
https://earthcare.ie/wp-content/uploads/2017/11/Hannah-logo.png
Hannah
2019-03-03 15:00:07
2019-03-03 15:12:23
Whole Farm Plan